12 Best Chicago Restaurants on the River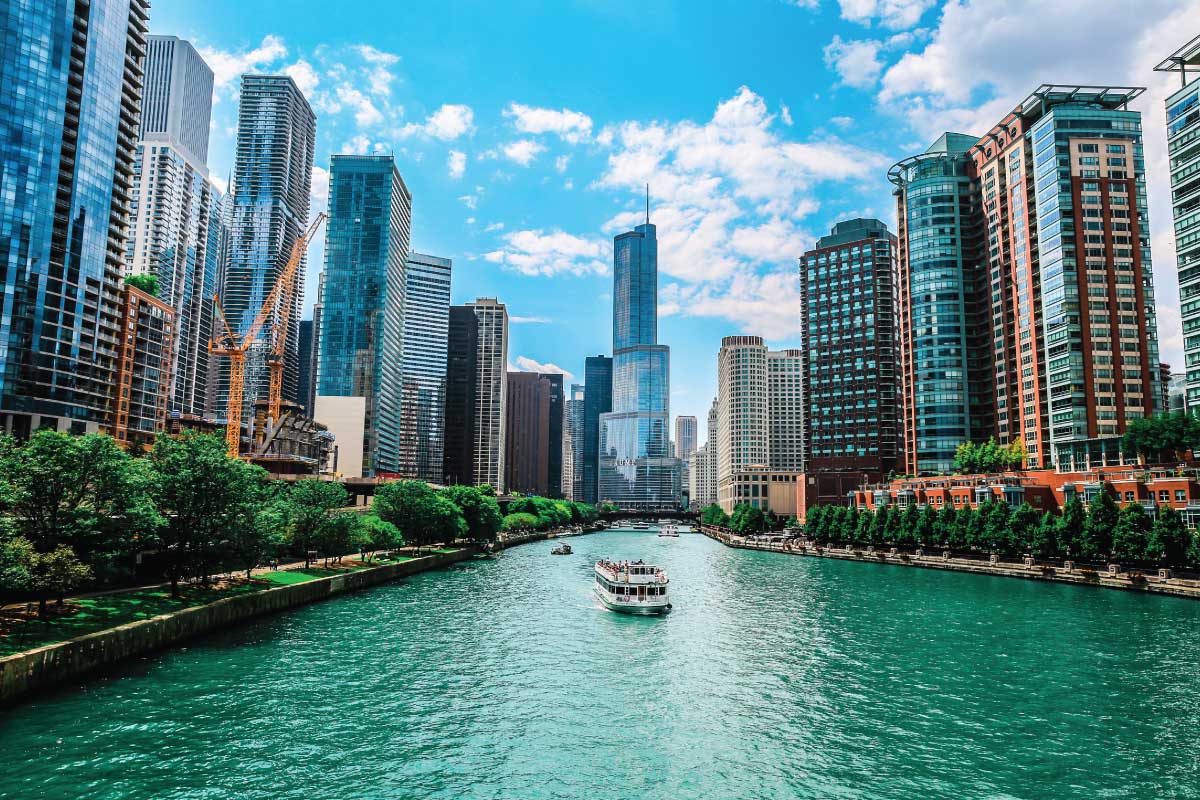 Food is enrichened by Chicago's proximity to water. Restaurants along the river, like Smith & Wollensky, carry rich dishes and unique dining experiences.
If you're planning to visit the Windy City, consider this your indispensable foodie-find guide.
Our list of the twelve best Chicago restaurants on the river takes you from lobster to linguine and from cauliflower tacos to chicken kabobs:
Azul
Beat Kitchen
Beatnik on the River
Cafe by the River
Chicago Cut Steakhouse
Gibsons Italia
Lawrence's Fish and Shrimp
The Northman Beer & Cider Garden Riverwalk
Porter Kitchen and Deck
River Roast
Riverwalk Wine Garden
RPM Seafood
Explore these Chicago restaurants by boat – Find Boat Rentals here!
Azul
From its fantastic, colorful ambiance to its Latin American-inspired menu, the upscale Azul is an absolute must. It serves seafood in every way imaginable: grilled, baked, fried, raw, and ceviche, naturally. It also has a handy boat dock and a rooftop lounge, perfect for admiring the river view.
Beat Kitchen on the Riverwalk
This is the second outpost for Beat Kitchen (the original is in a historic building in the Roscoe Village section). It's on our list of the best Chicago restaurants on the river because it has a vast waterside terrace and great music. Nosh on barbacoa cauliflower tacos, homemade black bean burgers, and chorizo and goat cheese pizza.
Beatnik on the River
This Chicago riverfront restaurant is named after the bohemian freethinkers of the 1950s and 1960s! Beatnik on the River has a dazzling display of antiques, crystal chandeliers, and a spacious terrace open year-round (enclosed during the winter). Don't miss the weekend brunch with tuna tostadas and bao buns. Add sick beats spun by DJs!
Café by the River
The name says it all. Café by the River serves all-day breakfast, sandwiches, pastries, and coffee and tea are the day's orders. Famed chef José Andrés runs it as a re-imagining of the quintessential American coffee shop, a place to relax and enjoy good conversations with a cuppa Joe. The partially covered outdoor deck will comfort you during sunshine or rain.
Chicago Cut Steakhouse
No list of Chicago restaurants on the river is complete without at least one steak place. Chicago Cut Steakhouse has a dry-aging room on site. You'll find bone-in rib eye, filet mignon, cedar-plan salmon, and other steakhouse faves like lobster mac and cheese. Check out this spot's extensive wine list while you try to spot local sports celebs.
Gibsons Italia
Gibsons is not your typical steakhouse, it has an Italian authenticity. Dishes include charred octopus and seven-year-aged Acquerello risotto. This spot offers prime Angus, Australian grass-fed beef, Japanese Kobe, and Carrara 640 Wagyu. The restaurant, where the Chicago River bends north, occupies three levels, including a rooftop bar with a retractable roof.
Lawrence's Fish and Shrimp
Dock and dine at Lawrence's Fish and Shrimp, a 51-year-old establishment on historic Canal Street! If you're in town without your boat, it's no problem. You can rent a pontoon boat straight from the restaurant's website. The fried perch and fried shrimp have been on the menu since day one, as have fried frog's legs and fried chicken.
The Northman Beer & Cider Garden Riverwalk
This Chicago Riverwalk destination is a European-style, super-casual beer garden with hundreds of seats. Additionally, The Northman Beer & Cider Garden Riverwalk is dog-friendly. Order pub pretzels, duck sausage, Chicago dogs, or vegan sausage. They pair well with made-in-Chicago drafts and made-in-the-Midwest ciders.
Porter Kitchen & Deck
Whether you sit indoors or out on the deck, Porter Kitchen & Deck has the most amazing views. Have a glass of their summer punch cocktails while you're here, and don't miss out on the warm crab dip or the burrata with house-made focaccia.
River Roast
Situated on the Chicago River, any seat at River Roast, inside or outside, gives you a river vista and spectacular views of the downtown. The menu is made up of handcrafted food and sharable items! Charcuterie and cheese boards, roast beef, and whole-roasted chicken are some of the favorite all-day menu items.
Riverwalk Wine Garden
Riverwalk Wine Garden by City Winery Chicago is the third establishment with a dock among our list of the best Chicago restaurants on the river. Try one of the local craft beers or wine at the City Winery at its West Loop locale. Lobster rolls, sharable plates of cured meats, and vegetarian or turkey paninis are our favorite items to order!
RPM Seafood
While "RPM" might make you think about boats, it's named after the founders — Bill and Giuliana Rancic! RPM is a three-level eatery with swiping views. It has tables indoors as well as outdoors across two terraces. Popular dishes include seafood towers and Peekytoe Crab De Jomghe, a twist on a Chicago staple.
Dig into flavorful Chicago dishes by the water and make sure to book a boat and experience the boating scene in the Windy City.
Don't let your boat sit idly by. List it with us to earn $20K on avg.
A journalist with more than 30 years' experience, Diane M. Byrne is the owner
of MegayachtNews.com, a daily website educating American superyacht owners, buyers, and
their circles of influence about the leading builders, designers, cruising destinations, and more.
She founded the website in 2007 as the first, and still the only, American-focused online media
outlet exclusively covering this market. It features all-original content, for real stories of real
interest.
Diane is additionally one of the most-sought-after journalists for expert editorial coverage and
commentary about not only superyachts, but also general boating and yachting. Her byline
appears in Boatsetter.com, DiscoverBoating.com, and the magazines Luxury Guide, Ocean,
Yachting, and Yachts International.
Additionally, Diane is the Chair of the U.S. Superyacht Association, having been on the Board of
Directors since 2015. Outside of yachting, she's a trustee of Sempre Avanti, a non-profit
resource supporting Italian and Italian-American individuals, businesses, and organizations in the
United States and Italy.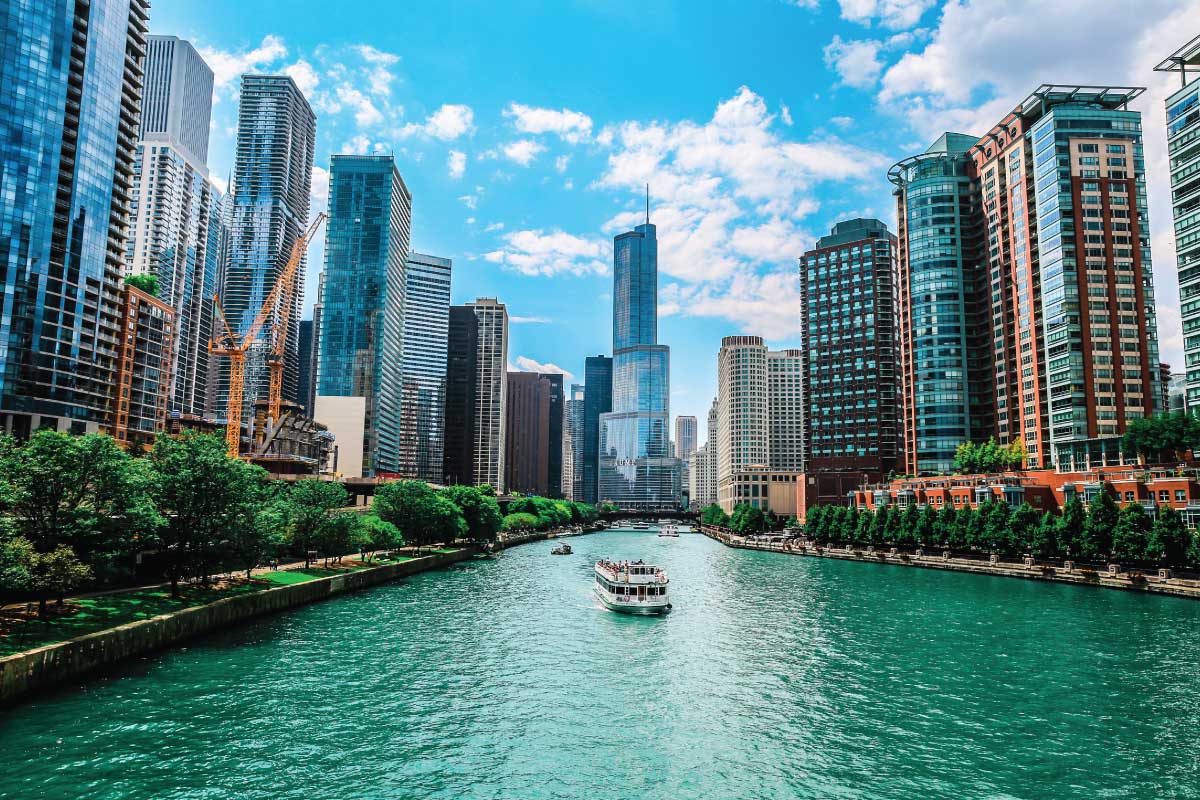 12 Best Chicago Restaurants on the River
Learn about some of our favorite Chicago restaurants on the river with easy access for those boating the Chicago River.
If you have any question please CONTACT  Us Email us at:  [email protected] Call US :(281) 697-4550
Don't Forget to Visit our Services